Aircraft Actuators Market is Emerging with 6.6% of CAGR by 2027 – Honeywell International Inc., Meggit Plc., Moog Inc., NOOK Industries, Inc., PARKER HANNIFIN CORP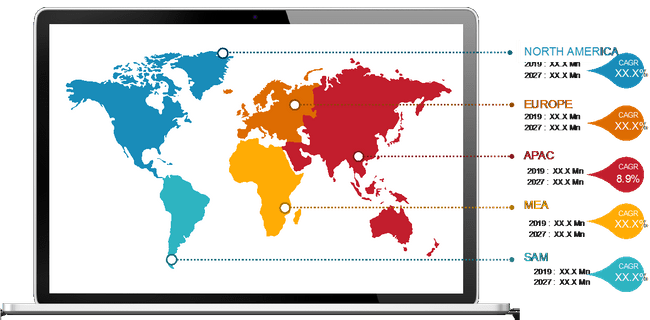 Aircraft Actuators Market Top Players are Collins Aerospace, Eaton, Curtiss-Wright, Honeywell International Inc., Meggit Plc., Moog Inc., NOOK Industries, Inc., PARKER HANNIFIN CORP, Transdigm Group, Inc, Woodward, Inc
According to our latest market study on "Aircraft Actuators Market Forecast to 2027 – COVID-19 Impact and Global Analysis – by Type, System, and End User," the market was valued at US$ 7,700.33 million in 2019 and is projected to reach US$ 11,631.67 million by 2027; it is expected to grow at a CAGR of 6.6% from 2020 to 2027.
The aircraft actuator industry is continuously evolving with innovations to provide smaller, lighter, and cost-effective actuation systems. The rising demand for electromechanical actuators to enhance the actuation processes is propelling the market growth. An advent of electric aircraft is creating a new opportunities for the market players to focus on developing lighter, smaller, and efficient aircraft actuators. Further, increasing demand for small and narrow-body aircraft fleet from developing and developed nations propels the market growth. As the new electric actuators perform faster operations with minimal maintenance cost, major companies are selecting these products over hydraulic and pneumatic.
Get Sample PDF Copy at https://www.theinsightpartners.com/sample/TIPRE00006365
Rising Adoption from Developing Nations Fuels Growth of Aircraft actuator Market
Improving commercial aircraft fleetand air transportation services has become necessary for each nation to improve their connectivity to the world for better economic growth and international transportation activities. Hence, each country is concerned and eager toward the deployment of advanced aircraft fleetsuch as narrow-body aircraft, business jets, and other passenger aircraft. Aircraft actuator playsa major role in aircraft to offer stable and reliable flight control system and landing gears. Significant growth in economy of developing nations is supporting the development of aviation industry. Additionally, rising count of domestic andinternational travelers is driving the market growth by creating demand for more international flights. For instance, in December 2020, JetBlue airline started a new flight service between Cheddi Jagan International Airport (GEO) in Guyana and John F. Kennedy International Airport (JFK) in New York. Similarly,in November 2019, Middle East Airlines (MEA), the national airline of Lebanon, procured the new aircraft fleet from Airbus. Four A330NEOs, eleven A321NEOs, and four A321XLRs aircraft would be added into the fleet tomeet the need for increased international flights.
Strategic Insights
The players operating in the aircraft actuator market focus on strategies such as new product launches, acquisitions, and market initiatives to maintain their positions in the market. A few developments by key players are listed below:
In January 2020, Honeywell International Inc. was engaged in developing a line of lighter-weight, electromechanical flight controls for new urban air vehicles that can take off and land vertically. These actuators feature low electricity consumption and are specially designed to withstand the vibrations and power requirements of urban air mobility vehicles.
In September 2016, TransDigm Group Incorporated completed the acquisition of Young & Franklin Inc. and its subsidiaries, including Tactair Fluid Controls Inc. Previously, Young & Franklin Inc. was engaged in the manufacturing of proprietary, highly engineered valves and actuators.
Developed and developing nations are heavily investing in advanced technologies to strengthen their aircraft fleet. Companies in the US, Japan,and Germany are developing advanced actuators for the global market. The popularity of new, enhanced aircraft actuators such as electromechanical actuators, electro-hydraulic actuator, and electric actuators is increasing among the aerospace industries. In addition, rising electrification of aircraft systems with advent of electric aircraft and UAVs are supporting the aircraft actuator market growth. Developing nations such as India, China, and Indonesia are strengthening their aviation industries owing to rising number of domestic and international airline passengers. The aircraft actuators improve the performance of flight control systems to offer enhanced control for pilots. Further, the growing need of electromechanical actuators to develop lightweight systems with low maintenance requirements is driving the growth of the aircraft actuator market. The manufacturing companies such Collins Aerospace and Moog Inc are introducing advanced actuators offering enhanced control and performance for aircraft operations. In addition, increasing volume of the narrow-body aircraft has created the demand for aircraft actuators supporting the lightweight systems.
Impact of COVID-19 Pandemic on Aircraft Actuator Market
Amid the COVID-19 pandemic, the entire commercial aviation industry came to halt with minimal resources to foresee the future. Several production units in the US, France, Russia, and China were temporarily paused to adhere to the government regulations related to lockdown and physical distancing. The aircraft manufacturers witnessed 30–50% reduction in demand for most of their aircraft models, especially for the commercial aircraft models. The decreased aircraft production and assembly activities have decimated the demand for aircraft actuators. The business aviation sector also experienced turmoil throughout 2020 due to the lowered business jet deliveries and reduced demand for turbo-prop and rotary helicopters. Thus, the entire aircraft manufacturing sector observed severe downfall in demand, which reflected less than usual annual growth rate in revenue generation trend. The business aviation and general aviation aircraft manufacturers were witnessing substantial demand for their products, however, the trend turned upside down in 2020, as the demand for used aircraft model grew among the users, which led the aircraft manufacturers experience fall in demand for newer aircraft models. This has restricted the manufacturers to procure actuators and other systems and technologies for newer aircraft models, thereby hampering the revenue generation of the aircraft actuators market players.
Buy Complete Report at https://www.theinsightpartners.com/buy/TIPRE00006365
Media Contact
Company Name: The Insight Partners
Contact Person: Sameer Joshi
Email: Send Email
Phone: +1-646-491-9876
City: Pune
State: Maharashtra
Country: India
Website: https://www.theinsightpartners.com/reports/aircraft-actuators-market