Osteoarthritis Pipeline Assessment, 2023 Updates | In-depth Insights into the Emerging Drugs, Latest FDA, EMA, and PMDA Approvals, Clinical Trials, and Treatment Outlook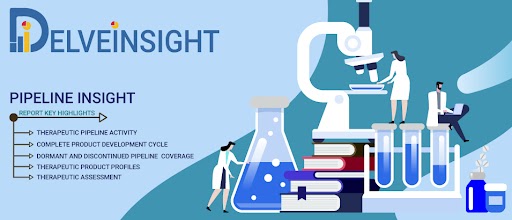 (Las Vegas, Nevada, United States) As per DelveInsight's assessment, globally, Osteoarthritis pipeline constitutes key companies continuously working towards developing Osteoarthritis treatment therapies, analysis of Clinical Trials, Therapies, Mechanism of Action, Route of Administration, and Developments analyzes DelveInsight.
The Osteoarthritis Pipeline report embraces in-depth commercial and clinical assessment of the pipeline products from the pre-clinical developmental phase to the marketed phase. The report also covers a detailed description of the drug, including the mechanism of action of the drug, clinical studies, NDA approvals (if any), and product development activities comprising the technology, collaborations, mergers acquisition, funding, designations, and other product-related details.
"Osteoarthritis Pipeline Insight, 2023" report by DelveInsight outlines comprehensive insights into the present clinical development scenario and growth prospects across the Osteoarthritis Market.
Some of the key takeaways from the Osteoarthritis Pipeline Report:
Companies across the globe are diligently working toward developing novel Osteoarthritis treatment therapies with a considerable amount of success over the years.
Osteoarthritis companies working in the treatment market are Bone Therapeutics,, Ribomic, BRIM Biotechnology, Peptinov, 4movingbiotech, Eupraxia Pharma, Ensol Biosciences Inc., Cynata Therapeutics, Biosplice Therapeutics, and others, are developing therapies for the Osteoarthritis treatment
Emerging Osteoarthritis therapies such as – RBM-010, BRM521, PPV-06, 4P-004, EP-104, Engedi1000, JTA-004, CYP 004, Lorecivivint, and others are expected to have a significant impact on the Osteoarthritis market in the coming years.
In October 2022, Eupraxia Pharmaceuticals Inc. announced updates to its Phase II trial, which is evaluating EP-104IAR's efficacy and safety for the treatment of osteoarthritis ("OA") of the knee.Eupraxia announced that its ongoing Phase II study has successfully completed all DSMB reviews, with no drug-related Serious Adverse Events noted and a clean safety profile.
In September 2022, KiOmed Pharma and Hansoh Pharmaceutical Group Company Limited announced a license agreement for the development and commercialization of KiOmedinevsOne, a carboxymethyl chitosan injection that has been launched in Europe for the treatment of knee osteoarthritis, in China's mainland, Macau and Taiwan (the territory).Under the terms of the agreement, KiOmed will receive an upfront payment and will be eligible to receive development, regulatory and commercial milestones of up to € 66 million, as well as tiered royalties on future product sales.
In September 2022, Pluri Inc. announced that a €7.5 million non-dilutive grant from the European Union's Horizon Europe program had been awarded to PROTO (Advanced PeRsOnalized Therapies for Osteoarthritis), an international collaboration led by Charité, Berlin Institute of Health Center for Regenerative Therapies. The goal of the PROTO project is to utilize Pluri's PLX-PAD cells in Phase I/IIa study for the treatment of mild to moderate knee osteoarthritis (OA).
In September 2022, Immunis Inc. formally signed a clinical trial agreement with the California Institute of Regenerative Medicine (CIRM) Alpha Stem Cell Clinics Network to initiate STEM-MYO Phase I/IIa clinical trials. The trials will assess the safety and tolerability of Immunis' immunomodulatory secretome product, IMM01-STEM, in patients with muscle atrophy related to knee osteoarthritis, an inflammatory disease that is a leading cause of disability in elderly adults
Osteoarthritis Overview
Osteoarthritis (OA) is the most common form of arthritis. Some people call it degenerative joint disease or "wear and tear" arthritis. It occurs most frequently in the hands, hips, and knees. With OA, the cartilage within a joint begins to break down and the underlying bone begins to change
Get a Free Sample PDF Report to know more about Osteoarthritis Pipeline Therapeutic Assessment-
https://www.delveinsight.com/sample-request/osteoarthritis-pipeline-insight
Emerging Osteoarthritis Drugs Under Different Phases of Clinical Development Include:
RBM-010: Ribomic
BRM521: BRIM Biotechnology
SMUP-IA-01: Medipost
TTAX03: Tissue Tech
PPV-06: Peptinov
4P-004: 4movingbiotech
EP-104: Eupraxia Pharmaceuticals
Engedi1000: Ensol Biosciences Inc.
JTA-004: Bone Therapeutics
CYP 004: Cynata Therapeutics
Lorecivivint: Biosplice Therapeutics
Route of Administration
Osteoarthritis pipeline report provides the therapeutic assessment of the pipeline drugs by the Route of Administration. Products have been categorized under various ROAs, such as
Oral
Parenteral
Intravenous
Subcutaneous
Topical
Molecule Type
Products have been categorized under various Molecule types, such as
Monoclonal Antibody
Peptides
Polymer
Small molecule
Gene therapy
Osteoarthritis Pipeline Therapeutics Assessment
Osteoarthritis Assessment by Product Type
Osteoarthritis By Stage and Product Type
Osteoarthritis Assessment by Route of Administration
Osteoarthritis By Stage and Route of Administration
Osteoarthritis Assessment by Molecule Type
Osteoarthritis by Stage and Molecule Type
DelveInsight's Osteoarthritis Report covers around products under different phases of clinical development like-
Late-stage products (Phase III)
Mid-stage products (Phase II)
Early-stage product (Phase I)
Pre-clinical and Discovery stage candidates
Discontinued & Inactive candidates
Route of Administration
Further Osteoarthritis product details are provided in the report. Download the Osteoarthritis pipeline report to learn more about the emerging Osteoarthritis therapies
Some of the key companies in the Osteoarthritis Therapeutics Market include:
Key companies developing therapies for Osteoarthritis are – Bone Therapeutics, Moebius Medical, UnicoCell Biomed CO. LTD, Gwo Xi Stem Cell Applied Technology, Bioventus LLC, CAR-T (Shanghai) Biotechnology, Novartis, Personalized Stem Cells, Centrexion Therapeutics, Akan Biosciences, Purdue Pharma, Anika Therapeutics, Peptinov SAS, Flexion Therapeutics, Centrexion Therapeutics, Taiwan Liposome Company, Techfields Pharma, AstraZeneca, Ampio Pharmaceuticals, BioIntegrate, Sorrento Therapeutics, Swiss Medica XXI Century S.A., OrthoTrophix, Amzell, Eupraxia Pharmaceuticals, Meluha Life Sciences, Vivex Biomedical, Orient Europharma Co., Ltd., Paradigm Biopharmaceuticals, Abbvie, Galapagos NV, Regeneron Pharmaceuticals, Xalud Therapeutics, Yooyoung Pharmaceutical, Eupraxia Pharmaceuticals, Celltex Therapeutics Corporation, Eli Lilly and Company, Mestex AG, Mitsubishi Tanabe Pharma Corporation, Propella Therapeutics, Biosplice Therapeutics, Jiangsu XinChen-Techfields Pharma Co., LTD., Teva Pharmaceutical Industries, Pfizer, Grünenthal GmbH, PMG Pharm Co., Ltd, Nordic Bioscience A/S, BUZZZ Pharmaceuticals Limited, Antibe Therapeutics, Saol Therapeutics Inc, LG Chem, and others.
Osteoarthritis Pipeline Analysis:
The Osteoarthritis pipeline report provides insights into
The report provides detailed insights about companies that are developing therapies for the treatment of Osteoarthritis with aggregate therapies developed by each company for the same.
It accesses the Different therapeutic candidates segmented into early-stage, mid-stage, and late-stage of development for Osteoarthritis Treatment.
Osteoarthritis key companies are involved in targeted therapeutics development with respective active and inactive (dormant or discontinued) projects.
Osteoarthritis Drugs under development based on the stage of development, route of administration, target receptor, monotherapy or combination therapy, a different mechanism of action, and molecular type.
Detailed analysis of collaborations (company-company collaborations and company-academia collaborations), licensing agreement and financing details for future advancement of the Osteoarthritis market.
The report is built using data and information traced from the researcher's proprietary databases, company/university websites, clinical trial registries, conferences, SEC filings, investor presentations, and featured press releases from company/university websites and industry-specific third-party sources, etc.
Download Sample PDF Report to know more about Osteoarthritis drugs and therapies
Osteoarthritis Pipeline Market Drivers
Increase in prevalence of Osteoarthritis, rising geriatric population are some of the important factors that are fueling the Osteoarthritis Market.
Osteoarthritis Pipeline Market Barriers
However, risk of adverse cardiovascular events associated with the use of NSAIDs in osteoarthritis treatment, high cost associated with the treatment and other factors are creating obstacles in the Osteoarthritis Market growth.
Scope of Osteoarthritis Pipeline Drug Insight
Coverage: Global
Key Osteoarthritis Companies: Bone Therapeutics,, Ribomic, BRIM Biotechnology, Peptinov, 4movingbiotech, Eupraxia Pharma, Ensol Biosciences Inc., Cynata Therapeutics, Biosplice Therapeutics, and others
Key Osteoarthritis Therapies: RBM-010, BRM521, PPV-06, 4P-004, EP-104, Engedi1000, JTA-004, CYP 004, Lorecivivint, and others
Osteoarthritis Therapeutic Assessment: Osteoarthritis current marketed and Osteoarthritis emerging therapies
Osteoarthritis Market Dynamics: Osteoarthritis market drivers and Osteoarthritis market barriers
Request for Sample PDF Report for Osteoarthritis Pipeline Assessment and clinical trials
Table of Contents
| | |
| --- | --- |
| 1 | Osteoarthritis Report Introduction |
| 2 | Osteoarthritis Executive Summary |
| 3 | Osteoarthritis Overview |
| 4 | Osteoarthritis- Analytical Perspective In-depth Commercial Assessment |
| 5 | Osteoarthritis Pipeline Therapeutics |
| 6 | Osteoarthritis Late Stage Products (Phase II/III) |
| 7 | Osteoarthritis Mid Stage Products (Phase II) |
| 8 | Osteoarthritis Early Stage Products (Phase I) |
| 9 | Osteoarthritis Preclinical Stage Products |
| 10 | Osteoarthritis Therapeutics Assessment |
| 11 | Osteoarthritis Inactive Products |
| 12 | Company-University Collaborations (Licensing/Partnering) Analysis |
| 13 | Osteoarthritis Key Companies |
| 14 | Osteoarthritis Key Products |
| 15 | Osteoarthritis Unmet Needs |
| 16 | Osteoarthritis Market Drivers and Barriers |
| 17 | Osteoarthritis Future Perspectives and Conclusion |
| 18 | Osteoarthritis Analyst Views |
| 19 | Appendix |
| 20 | About DelveInsight |
*The Table of Contents (TOC) is not exhaustive; the final content may vary. Refer to the sample report for the complete table of contents.
About DelveInsight
DelveInsight is a leading Business Consultant and Market Research firm focused exclusively on life sciences. It supports Pharma companies by providing comprehensive end-to-end solutions to improve their performance. It also offers Healthcare Consulting Services, which benefits in market analysis to accelerate business growth and overcome challenges with a practical approach.
Media Contact
Company Name: DelveInsight Business Research
Contact Person: Gaurav Bora
Email: Send Email
Phone: 8774225362
Address:27 Drydock Ave S. Jones Blvd #2432
City: Boston
State: MA
Country: United States
Website: https://www.delveinsight.com/consulting/asset-prioritizaton-services