Joocla Graduated Compression Socks Help Protect Calves and Feet.
Joocla Graduated Compression Socks use a graduated compression level of 20 to 30 mmHG to help in support and recovery.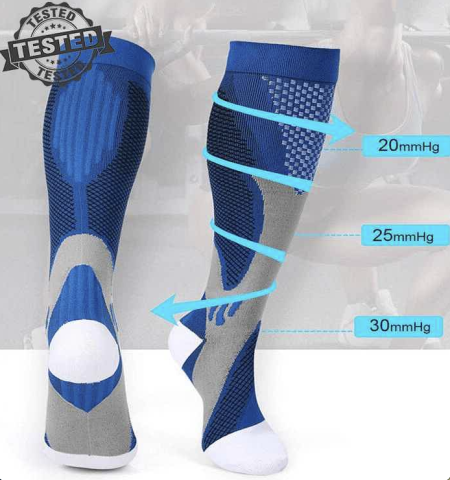 Ordinary socks available in the market have limited compression levels. Joocla compression socks are designed for better support and recovery.
Joocla compression socks are graduated compression socks with a compression level of 20 to 30 mmHG. These socks apply the perfect amount of pressure on the calves and feet of the wearer. It also aids in better blood circulation in their legs.
So how does a compression sock work? They gently push the blood flow up the leg. This prevents swelling and the development of blood clots.
There is a secret to their design that combines three aspects, ankle protection, cushioning, and breathable material. With the help of this amazing combination, one can energize their feet for a quick recovery, improving blood circulation and helping in reducing swelling and inflammation.
These Joocla compression socks are made using form-fitting compression material that wraps beautifully around the legs and provides compression. The anti-microbial technology used for making the socks helps manage temperatures and prevent odor-causing germs.
A spokesperson for Joocla said, "We are very passionate about maintaining a healthy lifestyle. We want everyone to be healthy and fit. Our specially designed compression socks offer premium graduated compression for different activities like walking, running, working out at home, and daily comfort. Joocla Original Graduated Compression Socks is an all-in-one solution for enhancing the blood circulation, accelerating the recovery process during a workout, reducing muscle soreness, and helping prevent varicose veins and swelling".
Joocla Original Graduated Compression Socks are also helpful in dealing with arch pain, heel spurs, Plantar Fasciitis, surgery recovery, numbness, and overuse.
The compression socks manufactured by Joocla are ideal for nurses, athletes, travelers, parents, and waitresses.
For more details, visit https://joocla.com.
Media Contact
Company Name: Joocla Compresssions
Contact Person: Julio Zaharia
Email: Send Email
City: Vancouver
State: British Columbia
Country: Canada
Website: Joocla.com