Stem Cells Market Size To Surpass $18.4 Billion By 2028, Due To High Demand For Biologics And Rising Focus on Development of Personalized Medicines | Grand View Research, Inc.
According to a new report published by Grand View Research, the increasing focus on the treatment of neurological disorders contributes to the stem cells industry expansion during 2021-2028.
Stem Cells Industry Overview
The global stem cells market size generated a revenue of USD 9.38 billion in 2020 and is expected to reach USD 18.4 billion by 2028, registering a CAGR of 8.8% during the forecast period.
The factors contributing to the growth include increasing demand for biologics, technological advancement in stem cell therapeutics, and a growing focus on the development of personalized medicines. The increasing focus on the treatment of neurological disorders contributes to the market expansion. According to the World Health Organization (WHO), around 7.1% of the total global burden of diseases is cerebrovascular diseases and neurological disorders. Hence, companies are conducting basic research and preclinical trials for testing the regenerative capacity of stem cells in the treatment of neurological conditions.
Gather more insights about the market drivers, restrains and growth of the Global Stem Cells Market
For instance, in May 2020 Celavie Biosciences advanced its 5-year exploratory study on Parkinson's disease. The company is developing regenerative stem cell therapies for treating central nervous system disorders and Parkinson's disease. Celavie Biosciences released successful results for their exploratory clinical trials of OK99 stem cells for Parkinson's disease.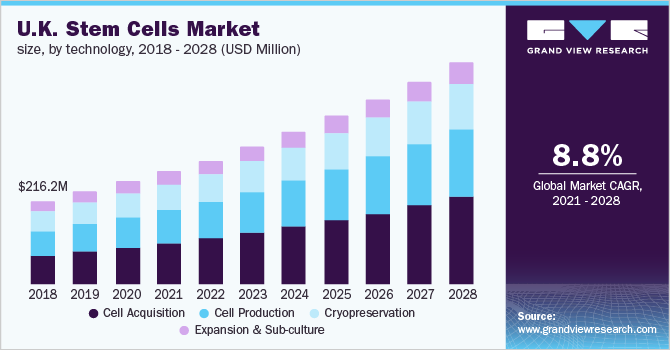 Moreover, the gaining popularity of personalized medicines is further contributing to the market growth. Researchers are discovering new procurement methods that can be further applied for developing personalized medicines. For instance, iPSC therapies are developed using a small amount of sample from a patient's blood or skin cell that is later reprogrammed to form new cells and tissue for transplant. Hence, with the application of these cells, potential personalized medicines can be developed.
Furthermore, Companies are focusing on developing therapies for reducing different stress associated with COVID-19. The process has multimodal immunomodulatory mechanisms of action, which makes it a promising therapy for treating acute respiratory diseases.
Stem Cells Market Segmentation
Based on the Product Insights, the market is segmented into ASCs, HESCs, iPSCs and very small embryonic like stem cells
The adult stem cells (ASCs) segment dominated the market in 2020, with a share of 85.7%. The primary factors that contributed to the dominance of the segment include the presence of minimal controversial issues concerning ethics, immune-rejection, and tumorigenesis. The application of ASCs in regenerative medicines can be further attributed to the segment growth. The ASCs bioprocessing for regenerative medicine is anticipated to face challenges during process development.
ASCs are further segmented into hematopoietic stem cells, mesenchymal stem cells (MSCs), neural stem cells, and epithelial/skin stem cells. The MSC segment is anticipated to expand at the fastest CAGR during the forecast period owing to their potential use in autologous transplantation, large clinical trials conducted that marked its application in the treatment of various diseases and extensive research to explore its therapeutic applications.
The induced pluripotent stem cells (iPSCs) segment is expected to witness a substantial CAGR of 9.3% through 2021-2028 owing to increasing investment for developing regenerative medicines using iPSC, ensured reproducibility and maintenance, capable of differentiation into all the cell types and high proliferative ability. Owing to the gaining importance of iPSCs in the treatment of various diseases, companies are expanding services associated with these.
Based on the Application Insights, the market is segmented into regenerative medicine and drug discovery and development
The application segment can be further divided into regenerative medicine and drug discovery and development. Regenerative medicine is held the largest market share of 89.1% in 2020 owing to increasing approval for stem cell therapies clinical trials targeting different diseases. For instance, in June 2020, Longeveron LLC announced Japan's Pharmaceutical and Medical Devices Agency (PMDA) approval for the starting Phase 2 clinical trial for evaluating the safety and efficacy of their Mesenchymal Stem Cells (LMSCs) that can be used for treating aging frailty.
Besides, several governments are investing heavily in the development of regenerative medicines. The regenerative medicines developed will help in the treatment of various heart diseases, blood disorders, vision loss, and diabetes.
The drug discovery and development segment is expected to witness a lucrative CAGR of 9.4% from 2021 to 2028. The market products are witnessing increased penetration across drug discovery as it is useful in studying human disease etiology, identifying pathological mechanisms, and developing therapeutic strategies for tackling various diseases. The iPSC-based models are preferred over phenotypic screening, as they can mimic molecular and cellular phenotypes of patients. By utilizing these, pharmaceutical companies can test hypothesized drug mechanisms in vitro in a cost-effective manner before conducting clinical trials.
Based on Therapy Insights, the market is segmented into autologous and allogenic
Allogenic stem cell therapy accounted for the largest revenue share of 58.2% in 2020. Allogeneic cells are extensively used owing to their graft vs-cancer effect for the treatment of cancer. With the help of this effect stem cells from the donor can use their immune system cell for killing cancer cells. The provoked immune system response by the donor is comparatively stronger than the recipient's immune system. Besides, these are commonly used for treating different types of cancers such as lymphomas, leukemias, and myelomas.
Autologous therapy is expected to expand at a lucrative CAGR during the forecast period. The growth can be attributed to the advantages such as few changes of graft rejection hence it is associated with fewer complications. The other factors contributing to the growth of the segment consist of high survival rate of patients, affordability, no necessity for HLA typing for matching donor, low risk, and application of these cells can proceed without being tested in clinical trials or facing stringent manufacturing standards.
Based on the Regional Insights, the market is segmented into North America, Europe, Asia Pacific, Latin America, and Middle East & Africa
North America accounted for the largest market share of 52.1% in 2020; growth in the region can be attributed to several factors such as the presence of key players engaged in developing stem cell therapies, advanced healthcare infrastructure, extensive R&D, supportive reforms from healthcare organizations and strong reimbursement policies. The U.S. is the leading country in the region owing to government initiatives and high research activities in the country.
Asia Pacific is expected to expand at the fastest CAGR of 9.0% during the forecast year owing to the increasing development of stem cell-based therapies, government initiatives for developing regenerative medicines, the setup of several stem cell banks, and increasing clinical trials for regenerative medicines in the region.
Market Share Insights:
December 2020: REPROCELL launched a new service Personal "iPS" service for generating patient-specific iPSC from January 2021. The service will help in preparing and storing an individual's iPSCs for developing regenerative medicines for treating future illness or injury.
October 2020: NoveCite and Novellus Therapeutics Limited entered into a partnership for developing & commercializing NoveCite iPSCs for treating COVID-19 associated Acute Respiratory Distress Syndrome (ARDS).
March 2020: Government of Canada invested around USD 6.9 million for regenerative medicine research. The funds will support 4 clinical trials and 9 translational projects aimed to bring new therapies in the regenerative medicine sector.
Key Companies Profile:
Companies are progressively receiving approval for their stem cell therapies. For instance, in April 2020, Mesoblast Ltd received clearance from U.S. FDA for an IND (Investigational New Drug application for MSC product candidate remestemcel-L.
Some key participants operating in the global stem cells market include:
CELGENE CORPORATION
ReNeuron Group plc
Virgin Health Bank
Biovault family
Precious Cells International Ltd
Mesoblast Ltd
Caladrius
Seneca Biopharmaceuticals, Inc.
Opexa Therapeutics, Inc.
Pluristem Therapeutics Inc
STEMCELL Technologies Inc.
ThermoGenesis Holdings, Inc
Astellas Pharma Inc.
Cellular Engineering Technologies
BioTime, Inc.
Order a free sample PDF of the Stem Cells Market Intelligence Study, published by Grand View Research.
About Grand View Research
Grand View Research is a full-time market research and consulting company registered in San Francisco, California. The company fully offers market reports, both customized and syndicates, based on intense data analysis. It also offers consulting services to business communities and academic institutions and helps them understand the global and business scenario to a significant extent. The company operates across multitude of domains such as Chemicals, Materials, Food and Beverages, Consumer Goods, Healthcare, and Information Technology to offer consulting services.

Web: https://www.grandviewresearch.com
Media Contact
Company Name: Grand View Research, Inc.
Contact Person: Sherry James, Corporate Sales Specialist – U.S.A.
Email: Send Email
Phone: 1888202951
Address:Grand View Research, Inc. 201 Spear Street 1100 San Francisco, CA 94105, United States
City: San Francisco
State: California
Country: United States
Website: https://www.grandviewresearch.com/industry-analysis/stem-cells-market