Pigment Dispersion Market Is Expected To Reach $33.4 Billion By 2030, Due To Steady Growth in Packaging Sector, in Terms of Food & Non-Food Packaging And Printing of Labels | Grand View Research, Inc.
According to a new report published by Grand View Research, increasing use of plastic and paper & paperboard materials and the use of various colorants to make attractive packaging is expected to drive the pigments dispersion industry.
Pigment Dispersion Industry Overview
The global pigment dispersion market size was valued at USD 23.1 billion in 2021 and is anticipated to reach USD 33.4 billion by 2030, expecting to grow at a compound annual growth rate (CAGR) of 4.3% during forecast period.
The steady growth in the packaging industry, in terms of both food and non-food packaging and printing of labels, is expected to drive the demand for pigment dispersions during the forecast period.
Gather more insights about the market drivers, restrains and growth of the Global Pigment Dispersion Market
Polyethylene terephthalate (PET), polypropylene (PP), and polystyrene (PS) are the most preferred polymers in the single-service food packaging segment. Factors such as the increasing use of plastic and paper & paperboard materials and the use of various colorants to make attractive packaging are expected to drive the overall pigments demand.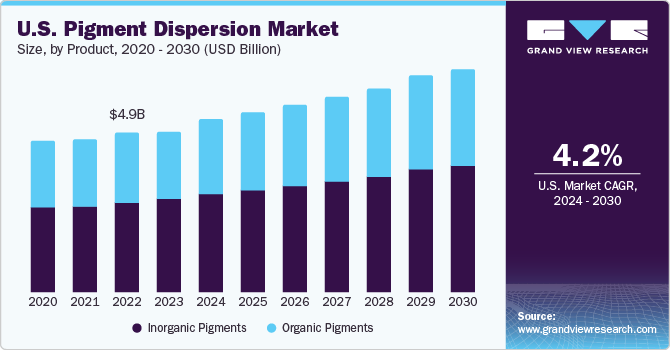 Organic pigments are an alternative to some of the toxic inorganic pigments. However, organic pigments are more expensive and some pigments that exhibit superior properties are limited. Manufacturers are investing in research & development activities to replace metals in the manufacture of red and yellow synthetic pigments in order to produce environment-friendly synthetic pigments.
Titanium dioxide is the most widely used inorganic pigment on account of its non-toxic content, chemical stability, and versatile properties for use in plastic and paper & paperboard food packaging. Zinc oxide is a synthetically produced pigment and is considered to have a lesser toxic effect on humans. Currently, titanium dioxide, iron oxide, and zinc oxide account for the maximum share of the global pigment demand for plastic and paper & paperboard food packaging applications.
Pigment Dispersion Market Segmentation
Based on the Product Insights, the market is segmented into inorganic pigments and organic pigments
The inorganic product segment led the market and accounted for more than 56.5% share of the global revenue in 2021. Inorganic pigment dispersion is derived from inorganic compounds such as chromates, sulfates, and metal oxides by various chemical formulations.
Inorganic pigment dispersion is generally lighter than organic pigment dispersion; however, in applications demanding higher durability, inorganic pigment dispersion is preferred over organic pigment dispersion.
Inorganic pigment dispersion is more economical than organic pigment dispersion and offers easier dispersion properties on various substrates owing to its smaller particle size as compared with organic pigment dispersion. Titanium dioxide and iron oxide are among the more popular types of inorganic pigment dispersion.
Organic pigments are composed of carbon chains and carbon rings and are transparent owing to their large particle size. The common types of organic pigments include azo pigments, phthalocyanine pigments, lake pigments, and quinacridone pigments.
The color strength of organic pigments is very much higher than inorganic pigments; however, the high prices and poor dispersion capabilities are restraining the growth of the organic pigments segment. Organic pigments find application in printing inks, paints & coatings, rubber, and plastics.
Based on the Application Insights, the market is segmented into plastics, inks, coatings and others
The coatings application segment led the market, accounting for more than 39.0% share of the global revenue in 2021. The growing building & construction industry on account of infrastructure development in many economies such as the U.S., China, India, and Saudi Arabia, among others is expected to drive the demand for coatings during the forecast period, thus boosting the growth of the pigment dispersion market in the coming years.
Pigment dispersion has widely substituted dyes in printing ink applications as the former provides better coloring to the printing ink, thereby offering the intended result to printing ink manufacturers. Inks that are made from dyes are composed of a colorant that is completely dissolved in a carrier fluid, whereas pigment dispersion-based printing inks consist of fine solid particles that get suspended in the carrier liquid.
The increasing consumption of plastic in various end-use industries, including construction, automotive, medical devices, and electrical & electronics is expected to drive the demand for pigment dispersion during the forecast period. Plastics are being used in construction applications such as floorings, high-performance safety windows, insulation materials, storage tanks, roofing, pipes, domes/skylights, cables, and doors. A moderate scope for growth is presented by such an evolving market.
Pigment dispersion is used in plastics, mostly with polyolefins, for plastic food packaging and other non-food packaging, in addition to building & construction products, coverings, gutters, sheets, films, and others. Pigment dispersions used in plastic applications involving direct exposure to sunlight are expected to protect it from ultraviolet (UV) radiations, as the radiations could affect the pigment dispersion properties.
Epoxy and polyurethane formulations are used in various floorings that require pigment dispersion to offer decorative and functional colors. Pigment dispersion is used in rubber applications for coloring rubber sheets, tire side walls, and surgery equipment in the medical industry.
Based on the Regional Insights, the market is segmented into North America, Europe, Asia Pacific, Central & South America, and Middle East & Africa
Asia Pacific dominated the market and accounted for more than 40.0% share of the global revenue in 2021. The high share is attributable to the availability of raw materials in abundance and the presence of low-cost labor, thus attracting manufacturers from various industries to set up their production facilities in the Asia Pacific region to derive increased benefits.
In South Korea, the coatings application segment is expected to contribute a maximum share to the overall pigment dispersion market growth during the forecast period. The growing infrastructure activities and increased spending from the government on public infrastructure development are anticipated to drive the South Korean market for pigment dispersion.
Germany contributed the maximum share in the Europe pigment dispersion industry, in terms of both volume and revenue.
The rapidly rising trend of green technology, which can be attributed to strict environmental regulations, is anticipated to favor the growth of organic pigment dispersion in the region.
The demand for pigment dispersion in the U.S. is majorly driven by the increasing number of quick-serve restaurants (QSRs), which use pigment dispersion in food packaging and printing ink applications. The U.S. government has strict regulations for the type of pigment dispersions to be used in food packaging, as many inorganic pigments become toxic after coming in contact with food products.
Market Share Insights:
March 2019: BASF SE partnered with Landa Labs to introduce its second stir-in pigment eXpand! Blue (EH 6001), sold under the Colors & Effects brand. eXpand! Blue (EH 6001) is used in automotive coatings and outdoor coating applications.
December 2018: Organic Dyes and Pigments acquired Premier Colors, Inc. to expand its business in Providence by catering to the customers of the latter. Premier Colors, Inc., located in South Carolina, U.S., is engaged in the supply of pigment dispersions and specialty chemicals to paper, textile, paints & coatings, and leather end-use industries.
Key Companies Profile:
The global market for pigment dispersion is fragmented in nature and major players are engaged in product development, strategic partnerships, mergers & acquisitions, and joint ventures to vertically integrate across the value chain, reducing the operational cost to have more profit margins.
The major companies operating in the global pigment dispersion market include
AArbor Colorants Corporation
American Element
Aralon Color GmbH
BASF SE
Clariant Ltd.
Decorative Color & Chemical, Inc.
Ferro Corporation
Flint Group
Heubach GmbH
Kama Pigments
Organic Dyes and Pigments
Reitech Corporation
Sun Chemical
Trust Chem Co., Ltd.
Sudarshan Chemical Industries Limited
Pidilite Industries Ltd.
Aum Farbenchem
DyStar Singapore Pte. Ltd.
Solvay
Altana
Achitex Minerva S.p.A.
Heidelberger Druckmaschinen AG
Avient
Habich
Synthesia, a.s.
Order a free sample PDF of the Pigment Dispersion Market Intelligence Study, published by Grand View Research.
About Grand View Research
Grand View Research is a full-time market research and consulting company registered in San Francisco, California. The company fully offers market reports, both customized and syndicates, based on intense data analysis. It also offers consulting services to business communities and academic institutions and helps them understand the global and business scenario to a significant extent. The company operates across multitude of domains such as Chemicals, Materials, Food and Beverages, Consumer Goods, Healthcare, and Information Technology to offer consulting services.
Web: https://www.grandviewresearch.com
Media Contact
Company Name: Grand View Research, Inc.
Contact Person: Sherry James, Corporate Sales Specialist – U.S.A.
Email: Send Email
Phone: 1888202951
Address:Grand View Research, Inc. 201 Spear Street 1100 San Francisco, CA 94105, United States
City: San Francisco
State: California
Country: United States
Website: https://www.grandviewresearch.com/industry-analysis/pigment-dispersion-market