It's time for the compilers, Top 50 compilation by FanatiXx Spectrum Awards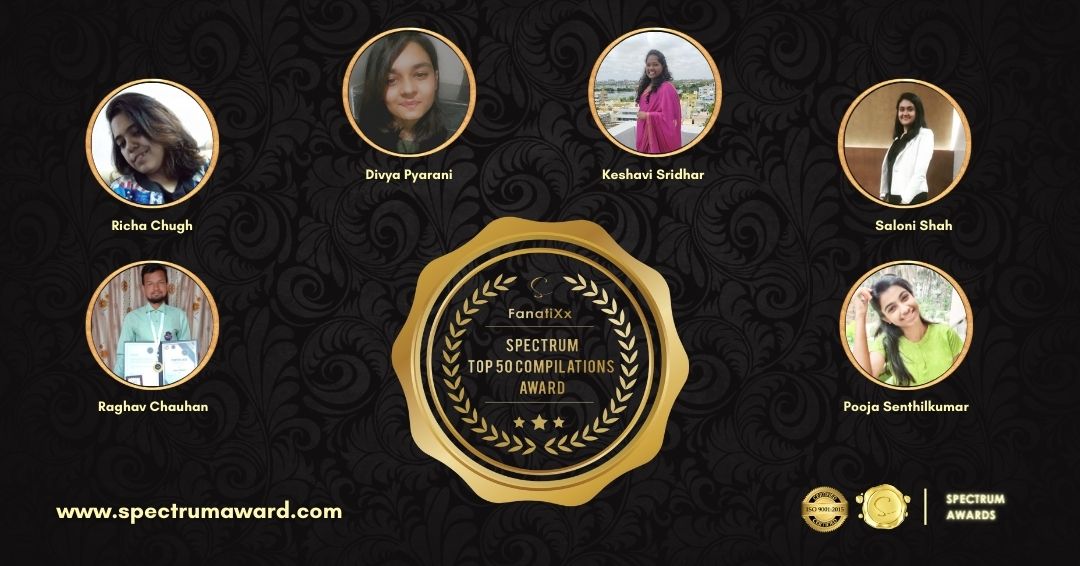 Fellow compilers are breaking all the barriers to come up and raise the standards of the Anthology market in India.
"'That Aimless Scribble' will always be close to my heart. It is a reflection of emotions that are hard to talk about. Every writer scribbles. But, scribbling the emotions from a sketch is what challenging and what makes it even more beautiful. I feel honoured and blessed for being awarded by Fanatixx Spectrum Awards. Smiles at the end is all that matters!" ~ Divya Pyarani | Compiler of 'That Aimless Scribble' | Book Recognised for Theme Compilation | Published by Spectrum of Thoughts.
"Words would never be enough to express my gratitude towards FanatiXx Spectrum Awards. Because while I was striving to make a space for myself it gave me whole platform of recognition without any expectation. I wish to grow with them in the field and explore myself to reach more recognition and achievements." ~ Keshavi Sridhar | Compiler of The Untold Stories | Book Recognised for Debut Compilation | Published by Spectrum Of Thoughts
"People generally establish themselves and have achieved huge until they are 25-26 years of age. But that's not the case with me. At the age of 25, I suffered a major set back when I had a spinal injury in 2017 and became paralysed. Repeated injury in 2019 did the last bit and depression stuck. Wherein I found my escape in my love towards inking. And thus started a new journey of self discovery." ~ Richa Chugh | Compiler of Inked Khayal | Book Recognised for Debut Compilation | Published by BookSquirrel Publication.
"Saloni Shah from Shrirampur honoured with FanatiXx Spectrum Awards under category best theme compilation. Her inspirational work as a Writer and coauthor in 25+ books, Compilation of 20+ books & Overall Excellence, Achievements, Innovative Leadership in Strengthening the Indian writing world and her associated contribution towards betterment of Indian Literature & setting the benchmark in the field of writing era highlights her iconic, creative and multitalented personality with the winner of several reputed awards." ~ Saloni Shah | Compiler of the book Never Ending Footsteps | Book Recognised for Theme Compilation | Published by BookSquirrel Publication.
"Pooja was awarded topper during her schooling. She has also won 'ACHIEVER OF THE YEAR 2020″ in the category of writer as well as speaker. She has also been nominee of 'SPECTURUM SAAHITYE AWARDS 2020', 'INSPIRING INDIAN WOMEN 2021'. She has been the Nominee of 'TAMILNADU WOMEN ACHIEVERS AWARD 2021' and Awardee of 'SPECTURUM TOP 50 COMPILATION 2021′ And a KALAMs WORLD RECORD HOLDER'." ~ Pooja Senthilkumar | Compiler of Unleashing Potential | Book Recognised for Debut Compilation | Published by Bshayar.
"Raghav Chauhan is an Indian author, Writer and multiple record holder. He was born on 06th July 1997 at a village of Distt Moradabad, Uttar Pradesh in a middle class family. He has a lot of struggle in his life because he couldn't get his family support when he needed too much. Due to financially problems, he dropped Engg and started to work in a Pvt industry based on polytechnic diploma. Thus, he has a painful story behind his achievements." ~ Raghav Chauhan | Compiler of Season's of heart | Recognised for Challenging Compilation | Published by BookSquirrel Publication.
"It is too mainstream to recognise the co authors that come together and contribute towards making of the book, Efforts made by the compiler is not always that has come to the lime light! Their work, their dedication and hardships also play an important role in making of the book. 'Top 50 compilations' is a recognition for the book as a whole and the man (compiler) behind the making of it." ~ Neharika Bhatia | Editor in Chief from FanatiXx Spectrum Awards further Added
Lastly, FanatiXx Spectrum Awards was formed with a single purpose, to recognise and motivate people so they can do the same for others.
Media Contact
Company Name: FanatiXx Spectrum Awards
Contact Person: Neharika Bhatia
Email: Send Email
Phone: 8448203204
Country: India
Website: https://spectrumaward.com